Honorary Chair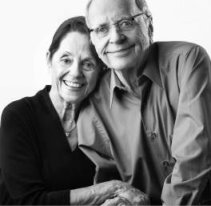 Dear Friends,
How proud we are that our family was asked to be Honorary Chairs for this year's Central Illinois Memorial Kidney Fund's (CIMKF) largest fundraiser ENCORE. Just two years ago we lost our mother, Penny Scherer, who had suffered with chronic kidney disease for 45 years. Three kidney transplants, on and off dialysis, and multiple invasive surgeries were simply a way of life. Those who knew Penny knew her suffering didn't hold a candle to her larger-than-life personality. Penny was fortunate in that she could afford basic things like prescription drugs and transportation to her doctor appointments. Many kidney patients cannot.
CIMKF was founded by our dear friend, Dr. Robert Pflederer, in 1976 and is administered by a volunteer board of local business and professional people. CIMKF supports kidney patients and their families by offering critical services during times of need. Transportation to and from dialysis, acquiring medicine, and emergency living expenses when all other avenues of support have been exhausted are just a few services that CIMKF provides. We're asking you to help CIMKF continue to provide these basic yet most important services for years to come.
The largest source of revenue for the Central Illinois Memorial Kidney Fund is the musical production ENCORE presented by the Morton Civic Chorus under the direction of Denise Adams. This year's production will be held at Bradley University's Hartmann Center Theatre May 23-27 at 7:30 p.m. and May 28 at 2 p.m. You can buy tickets online through mortoncivicchorus.org. Your gift is 100% tax deductible and you will be recognized in the 2017 Morton Civic Chorus show program as a contributor during the ENCORE benefit. We hope to see you at this wonderful and impressive production and we hope you find it in your heart to make a donation to CIMKF.
Our personal thanks to CIMKF, the Morton Civic Chorus, and to ALL of you for caring.
God Bless,
James G. Scherer and Family